Interview with Tania van der Vegt
Underwood St, Paddington
Architecture: Madeleine Blanchfield
Builders: One Up Building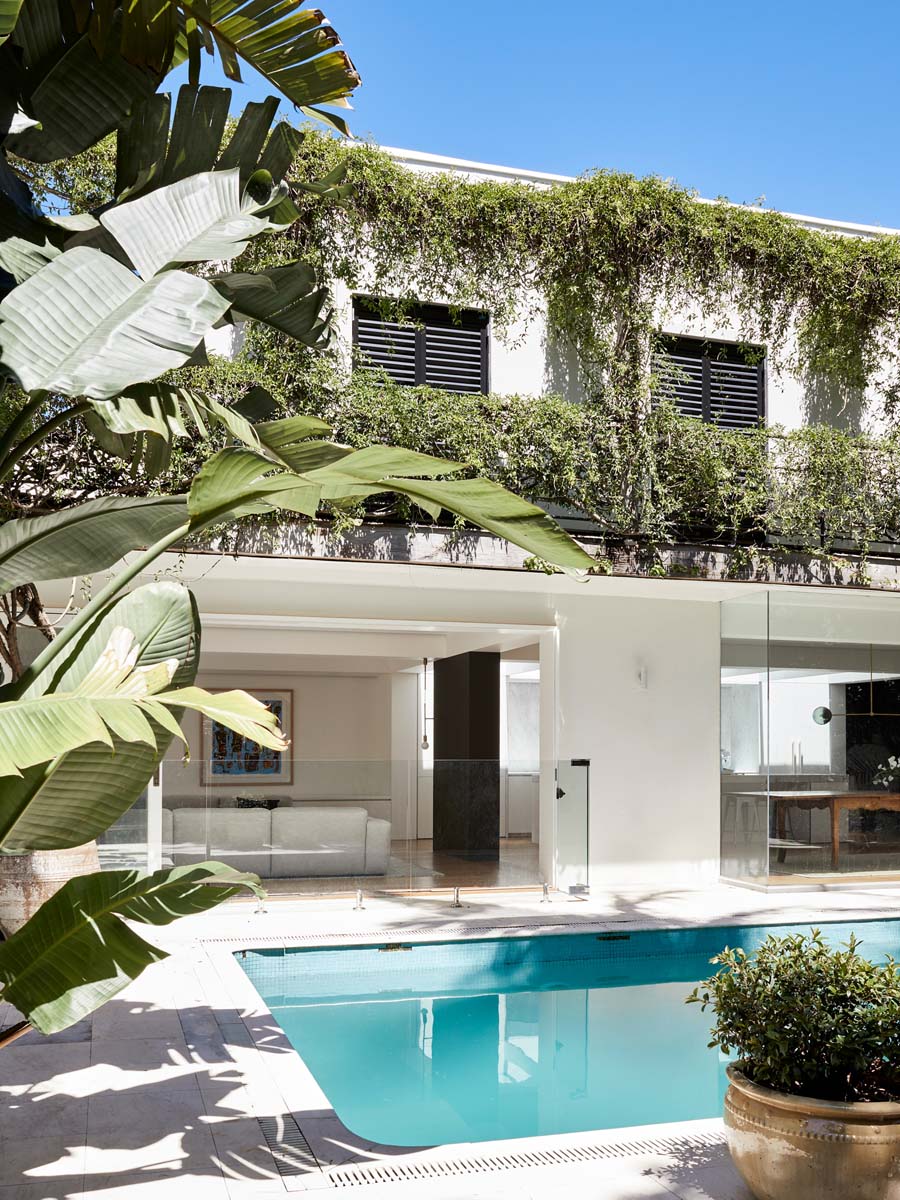 Most people like to keep a close eye on their renovation projects, but it's not every day you get to live on-site and see it at close range.
We interview Tania van der Vegt to gain a little insight into this Paddington renovation from a home owner's point of view.
The brief
According to architect Madeleine Blanchfield: 'This project started over seven years ago. It had many design iterations over the years. The demise of a significant tree in the internal courtyard broadened our options and we redesigned the scheme to place the kitchen in a space that was previously external. This allowed for the skylight over to bring in an abundance of light but also to widen the floor plan and improve the flow and overall spatial quality of the ground floor of the existing terrace.
One Up came on board and the owners were living happily in their renovation less than six months later!'
Interview with Tania van der Vegt
What were the main challenges?
It was terrifying at first! It's a really big deal, I was worried constantly – are we doing the right thing? Are we going to end up with a mortgage size of Mt Isa? Will the builder be no good? Everything is a worry, particularly when you are doing it as a family.
It can be hard for 'normal' people to visualise architectural plans. Thinking about what decisions need to be made, when they need to be made, it's quite daunting in the beginning.
Fortunately my husband let me manage the project, so we weren't at odds about all the small decisions to be made, he'd offer a view if I asked him, but he didn't get involved in most of the design and interiors finishes.
Now, having been through the renovation process once, I could happily do it again with far less concerns. But that's because we found the right team in Madeleine, and Rick and Scott.
Watch this video to see behind the scenes on the build
Have you done anything like this before?
This is the first project of this size, we've done some more basic renovations in the past, but none that involved a complete redesign. My advice to anyone embarking on a project like this is take a deep breath; you'll be happy when it's done. In hindsight, I worried about it more than I needed to.
I'd also recommend to make sure you have a proper budget for lights! I know it sounds crazy, but I just didn't think about budgeting for lights. Speak to your builder or architect to understand all the "hidden" costs so that your budget is robust – budget surprises are usually not fun.
The learning for me is that if you take time to understand your budget, have the right architects and the right builders, you have a solid base for your project.
What advice would you give to someone who was thinking about building or renovating?
The relationship between builder and architect is SUPER important. I'm so glad we went with OneUp. It's essential they have a good relationship and that was the case with OneUp and Madeleine Blanchfield. They trust each other, which means they can find solutions that are acceptable. It just leads to a much better outcome.
The owner builder relationship is actually the most important relationship though. They are the one I'm dealing with each day.
Rick was a real sounding board for me. I counted on Rick to communicate openly with the architects. He could understand where I was coming from and help me. He could also then drop into the architects and explain things or go through it which was great.
How did the project play out?
We're delighted with the outcome.
By and large it was such a great process once we got going.
We wanted to remain living in the house, so we moved kitchen and dining into the studio above the garage during the build. We were able to access our first floor bedrooms and the builders were great, bearing with us as we traipsed through the build in the early morning. The kids were 15 & 12. It was mid-winter and we had an open house – literally the ground floor of our house was open. The team were so lovely. It was fun watching it go up, watching the guys on site, seeing it transform. We missed them when they left!
We could not have hoped for a better build.
The guys were so fabulous, especially Rick and Scott. Their team were such a happy lot on site. I worked from home at times, so of all the family, I was there the most. The One Up crew were great to have around, they were always so polite and always happy to help me understand what was happening.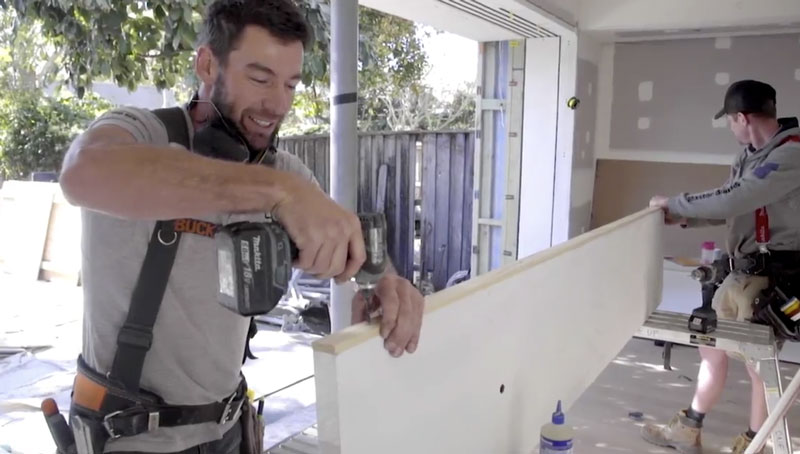 Through the build, especially when you still live on site like we did, the builders are very much in your life. If you get on well with them it's such a bonus. It's essential.
I asked Rick a billion questions, I wanted to understand what was being done and how, he worked with me and he didn't mind. I really had an open line to him. You need that. In some cases we literally had to decide on things "on the fly", so it helped me very much that I could ask Rick for his input and advice. If that relationship between builder and client didn't work well, it would have been a very different experience.
I knew that if Rick or Scott made a suggestion, they made it knowing what Madeleine would expect and like from an architectural point of view, so they would make suggestions that would still work with what she was trying to achieve. I didn't realise how important that was. I chose OneUp because Madeleine had worked with them before, and luckily that ended up being a great decision.
Building is not a matter of 'Ok, the plans are done let's go!'. There's so much back and forth during the build, lots is only uncovered onsite once ceilings and walls are gone so although plans might be finished, there were still many decisions which had to made when the builders were on site. You simply don't have enough information to be able to make some decisions until the build is in progress.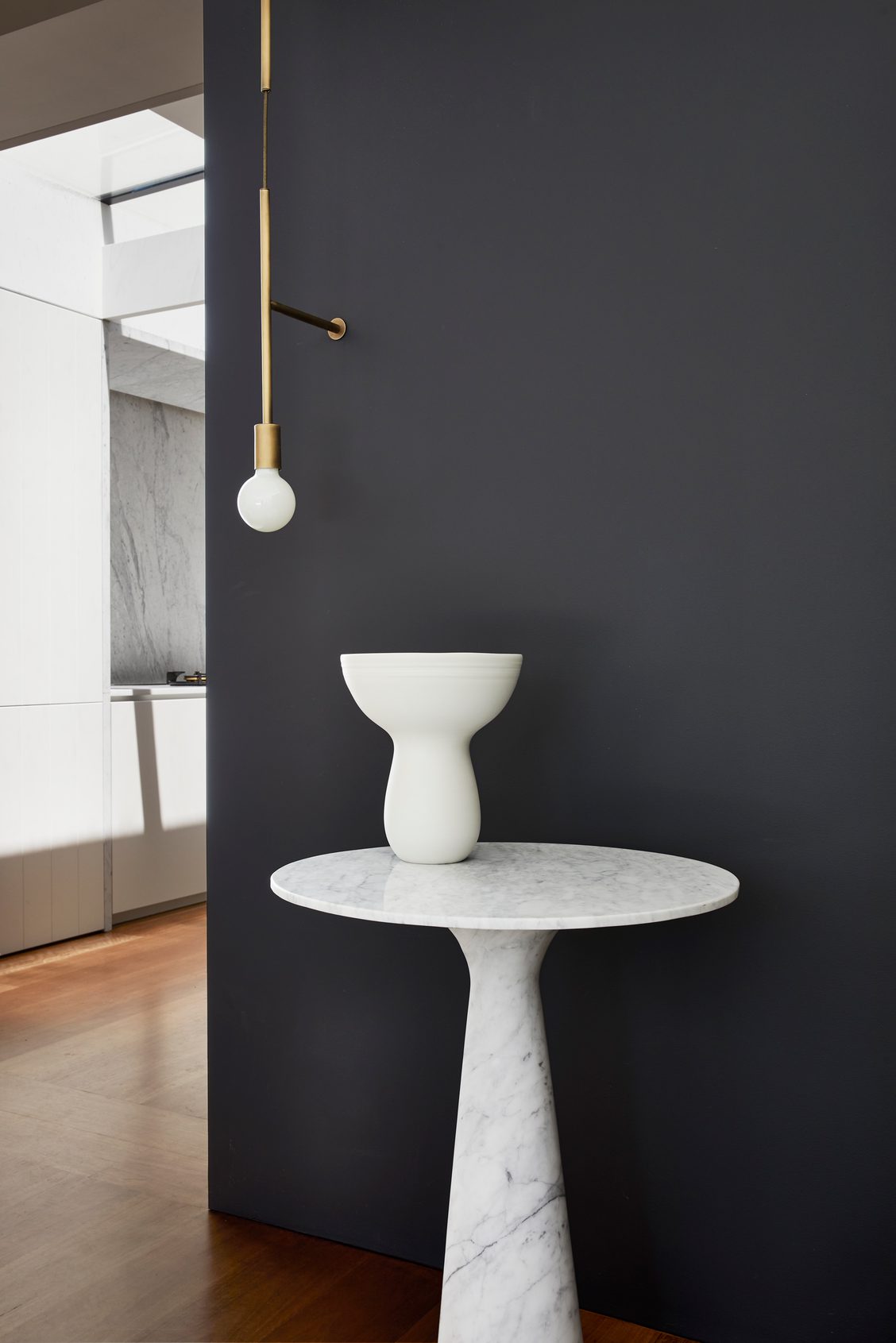 How does your new home make you feel?
It's so beautiful. It's clean and it's a wonderful space to live in. We loved the house before, but we didn't realise how much more the house could be.
I would definitely recommend OneUp without hesitation – indeed I have many times already. I'd use them again if we were to embark on a new project, which is the key indicator. My husband would agree. They did a great job.
The key thing is the relationship. They are such a lovely bunch of blokes to have working at your house. And that feeling of 'I'm in good hands, they will help me and I can trust what they tell me. They will give me the honest truth'. That's invaluable.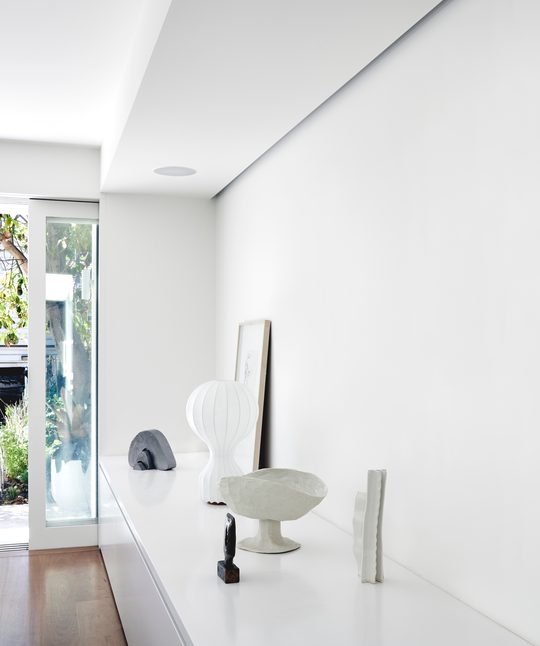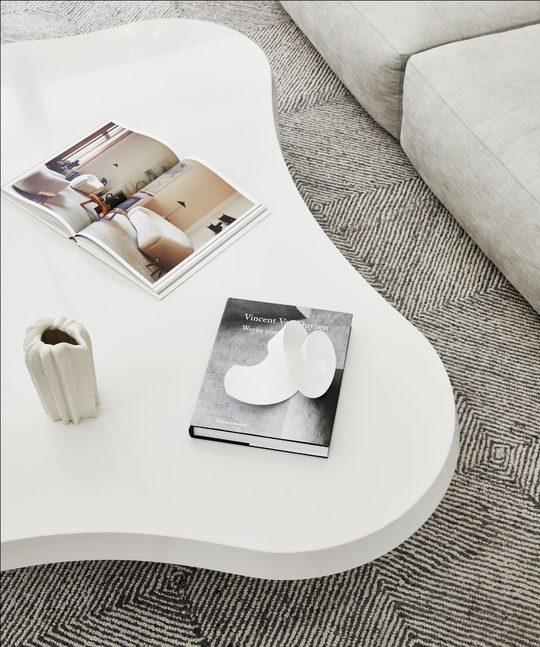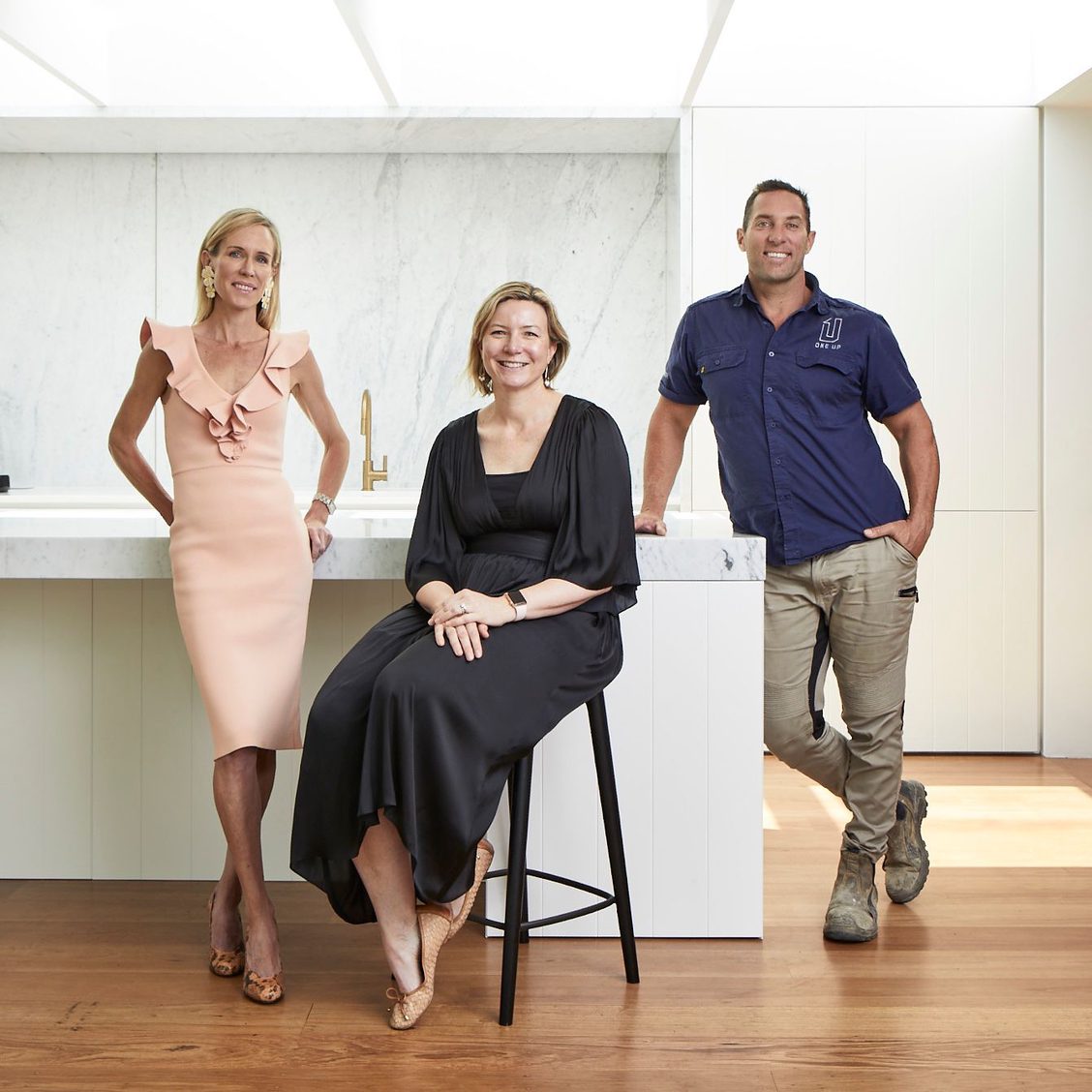 Left to right: Architect Madeleine Blanchfield, Katrina Dunn, and Rick Simmons, One Up Building.
Find out more…
If you'd like to know more about this project, or if you have a challenging residential project in the planning, feel free to call Rick Simmons on 0416 237 502 or email [email protected]